Frequently Asked Questions




Are Badin and the Secret of the Saami and the Mini-Sagas true stories?
No. These are historical fiction stories. All of the stories are fiction. However, many of the characters, locations and events are based on people that existed and events that occurred during various historical periods in Sweden.
Who created Badin and the Secret of the Saami?
The author and illustrator is Eric C. M. Basir. He was inspired to research Badin from a visit to Sweden as a guest on television show Allt För Sverige, where he reunited his mother's family with relatives in Sweden. Two years later he led a successful Kickstarter campaign to fund a professional English translation of Badin's only known diary. Badin's Diary: An English Translation, is now available for free online as a PDF eBook.
Eric is the owner of Photo Grafix and Black Rhino Illustration. He lives in the United States with his wife, children and Zebra Nerite Snail, Thora. He also works as a janitor for a local nature center.
Why did Eric create Badin and the Secret of the Saami?
Eric's experience in Sweden was not a positive one. After plunging into a deep depression, he used the negative energy to create two picture books about Black Swedish children: The Swedish Girl of Motala and Knös the Giant. A year after climbing out of the depression, he began to research and write the script for Badin and the Secret of the Saami. He connected with the historical Badin as a Black person who lived his life among privileged whites—But never accepted as an equal. He also knew that his own value as a human being—regardless of its importance—was unimportant to them. One goal of the graphic novel is to use it as a platform to convince the Swedish government and monarchy to officially recognize Badin as a member of the Royal Family. He was indeed Sweden's Black Prince. You can learn more about the motivations behind his efforts in the first Mini-Saga for Badin and the Secret of the Saami: Vaarvaa.
I have a question not listed here.
Please use the Contact Form and your question shall be answered and posted!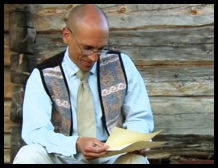 Do you have an official press release for Badin and the Secret of the Saami?
Yes! Please see the Black Rhino Illustration Blog here. It includes PDF and Word formatted releases. Feel free to use it for articles on your own blog or other media.